Ernie O'Malley's friendship with John Ford extended to collaborating on a second film, 'The Rising of the Moon', in 1956. Again filmed in the west of Ireland, O'Malley was again working as a technical adviser although some accounts suggest that Ford wanted O'Malley on the set more for his presence and company rather than as a consultant.
In the early 1950s Ernie O'Malley, still drafting the second volume of his memoirs (the first volume dealt with the Easter Uprising and its aftermath; the second with the Civil War) set about another project: he was concerned that a Republican version of the events of the revolution should be recorded. In 1953 he gave a series of recorded talks, later to be broadcast on Radio Eireann, detailing encounters between the IRA and British Crown forces during the Anglo-Irish war. O'Malley continued researching the 1916-1923 period, and in 1954 the newspaper the Sunday Press provided him with a driver and photographer to pursue research and interviews around the country with former Volunteers. This work was published in a series of articles in the paper in 1955 and 1956, and collected together, along with material from the Radio Eireann talks, into a book titled 'Raid and Rallies' which was published posthumously in 1982.
Ernie O'Malley suffered a heart attack in 1953, and his health - which continued to be affected by the bullet fragments in his body and the toll of his hunger strike - deteriorated after this time. He died in March 1957, aged 59. He was accorded a state funeral with full military honours, with those in attendance including President Sean T. O'Kelly and Taoiseach Eamonn de Valera. His first book, On Another Man's Wound, was republished in London in 1961 and again in Dublin in 1979. The second volume of his memoirs was published under the title 'The Singing Flame' in 1978.
Ernie O'Malley has been commemorated in his native Castlebar with the erection of a fountain in The Mall. The fountain surrounds a bronze sculpture by Peter Grant of the mythical Mayo figure of Manannan. It is based on a smaller piece of sculpture that was part of Ernie O'Malley's collection.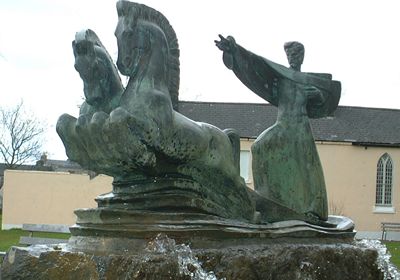 Fountain featuring Peter Grant sculpture of Manannan, The Mall, Castlebar
As a postscript to the legacy that Ernie O'Malley left to the arts in Ireland - which included his championing of artists such as Jack Yeats, Evie Hone and Louis le Brocquy - there was speculation in 1979 that a museum may be erected in his honour in Castlebar, Co Mayo. This followed an approach to the Irish government on behalf of O'Malley's former wife, Helen Hooker O'Malley Roelofs, expressing her desire to donate over 600 works of art to the people of the west of Ireland. Tragically, and for whatever reason, nothing came of the offer.